Beqa Island
Resort type:

Beach resort

Landscape:

Town, Island, Oceanfront, Tropical Forest, Hills

What to do:

Diving & Snorkelling, Boat Trips, Fishing & Spearfishing, Surfing, Windsurfing & Kitesurfing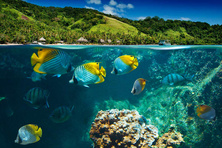 The Beqa island is a small island in Fiji situated 10 kilometres away from the coast of the central island Viti Levu in the south of the Pacific Ocean. It is washed by the waters of the Kadavy Strait.
Due to the large barrier reef which surrounds the central lagoon Beqa is recognised as a pacific Mecca for divers. The tourists come here all the year round to acquaint themselves with a rich underwater world of the island. There is a great choice of other activities such as surfing, snorkelling, water skiing, and hydro cylce riding. Anyone can also take a trip by yacht or by ship. If you are adventurous enough go to the exotic sea fishing. There are fully equipped volleyball and tennis courts for everyone who likes to do some sports.
Beqa is also a fine place for those who wish to relax and enjoy beautiful tropical nature. This place is family and children friendly. This is a true paradise and its beaches covered with golden sand and surrounded by exotic trees and plants will leave an unforgettable experience.
Beqa is a small island, but it has advanced touristic infrastructure and four luxurious hotels: Lawaki Beach House, Lalati Resort&Spa, Beqa Lagoon Resort, and Kulu Bay Resort. The hotels welcome families with children, people in love, and lonely travellers. Everyone will feel comfortable and easy here.
In addition to active entertainments, the tourists can take a trip to the depth of the island where the indigenous people of Fiji live. They are very hospitable and will show the tourists their traditions and everyday life with great pleasure. In the villages Dakuibeqa and Rukua, the tourists can witness an extreme ritual A jump into the fire. The Aborigines walk with bare feet on the burning hot coals.
A journey to Beqa will be an unforgettable experience for the foodies. They will try very delicious dishes of the national cuisine.
Beqa is an ideal place for everyone who wants to hide from the noise of a city, relax, and enjoy the untouched nature.