Friesland
Resort type:

City resort

Landscape:

Broadleaf Forest, Seacoast, Lakes

What to do:

Mountaineering, Cycling, Culinary Tourism, Natural Parks & Reserves, Casinos, Boat Trips, Wellness Tourism, Historical & Architectural Monuments, Yachting & Sailing, Hiking, Sport Tourism, Rafting & Kayaking, Safari, Surfing, Windsurfing & Kitesurfing, Thermal & Mineral Springs, Festivals & Carnivals, Shopping, Nightlife, Zoos, Oceanariums & Dolphinariums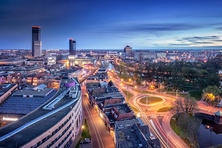 Friesland is a province on the coast of the North Sea. It belongs to the kingdom of the Netherlands. Its administrative centre is Leeuwarden.
Friesland is popular among the fans of active and extreme tourism. The most famous buildings in Leeuwarden are the former office of weights and measures Waag, "falling" bell tower Oldehove and Kanselarij. An important religious building is Church of Saint Boniface.
The lovers of water activities will have a wide choice from surfing, windsurfing, kiteboarding, whitewater rafting and tubing to yachting, kayaking, sailing and fishing. A popular beach in the capital city is Groene Ster Leeuwarden. The tourists enjoy boat cruises along the channels of the city of Harlingen. Those who prefer walking can take a walk along the pier of the Port of Harlingen.
There are horseback riding, auto and biking routes in the most picturesque regions. The tourists can try their hand at climbing, canyoning, abseiling, hiking and trekking. National Park Drents-Friese Wold offers a jeep safari. If you are in a good physical form try your hand in activities in Adfunturepark. Do not go past Golf and Countryclub Lauswolt if you know how to play golf. You can relax after a busy day in Spa Wellness Sneek. A spa centre Het Friese Woud offers treatments with spring waters.
The children will surely have a fun time in Aqua Zoo Friesland. The oldest planetarium in the world Eise Eisinga can be found in the city of Franeker. A playing centre Monkey Town welcomes the little tourists. If you like to rack your brains visit Escape Room 058.
To make your holidays even more interesting you can go to a bowling centre or a casino. A mall Winkelcentrum Zaailand Leeuwarden welcomes everyone to make purchases. If you like to participate in the local events, then plan your journey for June when a theatre festival Oerol takes place on the Terschelling Island.
The restaurant De Walrus serves the European cuisine. In Club 1841 in the city of Sneek, there is a bar and a disco.