Haa Alif Atoll
Resort type:

Beach resort

Landscape:

Atoll, Oceanfront, Tropical Forest

What to do:

Culinary Tourism, Diving & Snorkelling, Boat Trips, Yachting & Sailing, Rafting & Kayaking, Fishing & Spearfishing, Surfing, Windsurfing & Kitesurfing, SPA, Nightlife, Religious Pilgrimage, Tennis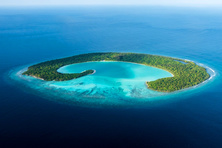 Haa Alif Atoll is a group of 16 islands situated in the north of the Maldives. The largest island of the atoll is Dhidhodhu.
People who prefer quietness and water activities choose Haa Alif Atoll. The tourists can go yachting and kayaking, scuba diving, snorkelling, sailing, windsurfing, fishing and go on sea cruises.
The main touristic infrastructure (hotels, restaurants, and night clubs) is on Dhidhodhu island. Yachtsmen and lovers of sailing prefer to come to the Uligamu Bay. In the waters of Huvarafushi and Ihavadhu, there are many exotic fishes. That is why this is a popular place for fishing.
A known spiritual centre of the archipelago is Utheemu Ganduvaru and it is situated on the Utheemu island. Houses and other buildings on the Kelaa island are all in the Oriental style. On the island the tourists will see what has remained of the United Kingdom military base. The beach of the island attracts many divers.
On the Matheerah island there is a sacred for all the Sufi Muslims a grave and a mausoleum. Hundreds of pilgrims come to these sacred places every year.
We recommend you staying in a hotel complex J Resort Alidhoo 5*. For the guests of the hotel, there is a gym, fitness centre, spa salon, hot tub and a massage room. The complex has its own tennis court, pool, volleyball and basketball courts. The private beach is 10 meters away from the hotel. Experienced instructors will teach you the basics of windsurfing, provide you with diving equipment, arrange fishing tours, scooter riding and water skiing. If you want an adrenaline rush you can try your hand at parachuting.
For the tourists with babies, there are the services of a baby-sitter, playgrounds and a play centre.
In the hotel, you will find some restaurants and bars. In The Village, they serve the international cuisine. In the bar Bliss, you will treat yourself to cocktails and desserts. A vegetarian menu, fresh juices and salads are served in Decks Juice. In a grill-bar, you can order savoury Indian dishes. In a lounge Blends, you will have a wide choice of various teas.