Habarana
Resort type:

Country resort

Landscape:

Lakes, Tropical Forest

What to do:

Culinary Tourism, Golf, Natural Parks & Reserves, Horse Riding, Wellness Tourism, Historical & Architectural Monuments, Gliding & Paragliding, Hiking, Sport Tourism, Rafting & Kayaking, Fishing & Spearfishing, Surfing, Windsurfing & Kitesurfing, SPA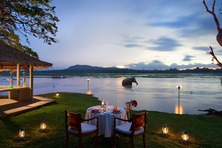 Habarana is a small city in Anuradhapura District in North Central province situated in the central part is the Republic of Sri Lanka. It neighbours Dambulla and Maradankadawala. Habarana is 64 kilometres away from Anuradhapura.
The suburbs of Habarana are very popular among the lovers of the ecological tourism. They can take a walk along the shores of the Habarana Lake and Minneriya Wewa or take a tour to Wasgamuwa National Park or Angammedilla National Park. Anyone can try and ride an elephant in Somawathie Chaitiya Sanctuary.
Habarana offers a wide choice of activities for the extreme tourists. They can try their hand at horseback riding, parachuting, paragliding and hang-gliding, kayaking, rafting, rope jumping, lake windsurfing and fishing on the Moregaswewa Lake.
In the city, you will find comfortable hotels where the guests can swim in a pool, play mini-golf, tennis and volleyball. A fitness centre Sigiri Dasuna offers pilates and yoga lessons.
Visit a wellness centre Habarana Ayurvedic Spa and have a relaxing massage or toning spa-procedures.
If no journey is complete for you without excursions special tours are arranged for the tourists. In the tour, you will see Ritigala Forest Monastery and an old Tampita Viharaya Temple. If it is not enough, you can take a tour across the region, see its historical and architectural sights.
The foodies should definitely treat themselves to the delicacies of the Asian cuisine in Dewata Villas Village, Mihini and Yaan Oya. Cinnamon Lodge Restaurant and Chaaya Village serve the dishes of the International cuisine.
There is no nightlife in Habarana.