Belem
Resort type:

Beach resort

Landscape:

Town, Riverside, Tropical Forest, Bay Coast

What to do:

Diving & Snorkelling, Natural Parks & Reserves, Historical & Architectural Monuments, Yachting & Sailing, Surfing, Windsurfing & Kitesurfing, Shopping, Nightlife, Zoos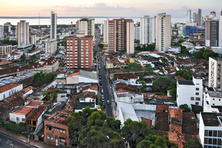 Belem is a port city in the north of Brazil. Belem is a capital city of the Para State. This resort is situated close to the Guajara Bay on the southern shore of the Para River and 100 kilometres away from the Atlantic Ocean.
The lovers of beach holidays and families will love the Joanes Beach and the Maracana Beach. Tropical plants surrounding the beaches make them especially attractive. On the Ponta de Pedras Beach, there is a yacht club. The surfers choose the Pesqueiro Beach and the Araruna Beach.
Amazing nature of the resort makes it a good destination for the ecological tourism. The tourists will visit the Amazon Biopark, the Tapajos National Forest, the Bosque Santa Lucia Forest, and the Mangal des Garcas Park.
For those who cannot imagine their journey without excursions, tours to the Christmas Fort and the Basilica Nazare are arranged. Make your journey even more useful and visit the Cirio de Nazare Museum, the Emilio Goeldi Museum, and the Marajo Museum.
The tourists with children should definitely visit the FIT Zoo. Art lovers can go to the Da Paz theatre. For a good shopping go to the Fair of Crafts and Typical Dishes. The restaurants Sorveteria Cairu, Remanso de Bosque, and Armazem Belem welcome the foodies. At night, the Studio Pub, the Black Dog Pub, and the Baviera Boutique Bar open their doors for everyone.