Hambantota
Resort type:

Beach resort

Landscape:

Town, Oceanfront, Tropical Forest

What to do:

Natural Parks & Reserves, Boat Trips, Hiking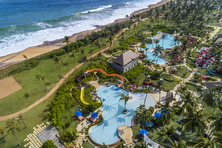 Hambantota is a city on the south coast of Sri Lanka and an administrative centre of the province of the same name. The resort is situated on the coast of the Indian Ocean, 240 kilometres away from Colombo.
Hambantota attracts the tourists with its amazing nature. Close to the city, there is Bundala National Park. The Park is under UNESCO protection and the fourth biosphere reserve on the island. On the coast near the reserve, the tourists can watch how rare species f turtles lay eggs.
In Hambantota, you have a unique chance to visit Kumana National Park and see unique species of birds. The local marshes are a habitat of endangered Indian crocodiles. In Kumana, there is the Cumana Villa Lake.
Kalametiya Bird Sanctuary is also of a great touristic interest. There you can watch peacocks and other birds.
A popular place among the tourists is Mirijjawila Botanic Gardens with shops and cafes.
You can try the best local dishes in Jade Green Restaurant.
There are bars in such hotels as Oasis Ayurveda Beach Hotel and Peacock Beach Hotel.