Hat Yai
Resort type:

City resort

Landscape:

Town, Lakes, Riverside

What to do:

Culinary Tourism, Diving & Snorkelling, Natural Parks & Reserves, Wellness Tourism, Historical & Architectural Monuments, Gliding & Paragliding, Yachting & Sailing, Sport Tourism, Rafting & Kayaking, Surfing, Windsurfing & Kitesurfing, Festivals & Carnivals, Shopping, SPA, Nightlife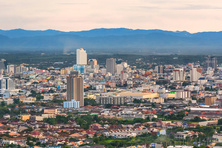 Hat Yai is a large city in a Thai province Songkhla which is situated near the Songkhla Lake at the shores of the Gulf of Thailand and the Strait of Malacca. The total area of the city is 20 square kilometres. It is 945 kilometres away from Bangkok.
The tourists who prefer city entertainments, shopping and fun for adults choose this city. There are many modern malls in the city: Lee Garden Plaza, Diana Complex and Kim Yong. If it is a nightlife you are after, then you are most welcomed in the clubs Post Laser Disc, Kiss Chanel and Paragon. The foodies will treat themselves to the original Thai dishes in the restaurants Saban Nga, Kho Nang Tae Tiam and Somtam Chaba.
Take a walk around the city, you will see interesting historical and architectural monuments such as Hat Yai Nai Temple or Church of Our Lady of Lourdes. A very popular thing for the tourists in Hat Yai is a Klong Hae Floating Market. If this is not enough for you, you can go on an excursion tour across the province. We recommend you visiting Khao Nam Khang Historic Tunnel, Hua Thanon Temple. You will enjoy the architecture of Songkhla Old Town.
The wellness tourists will feel a favourable effect of a famous Thai massage. The wellness centres Momento Spa Hatyai, Karabuhning Spa offer toning and relaxing spa treatments.
Many tourists come to the city to participate in such local celebrations as Songkran Festival, Loi Krathong and Dok Khun Siang Khaen Festival.
Make your holidays even more exciting and try your hand at parasailing or hang-gliding, parachuting and rope jumping, yachting, windsurfing, rowing and kiting on the Thaleluang lake. The active tourists can go snorkelling and diving in the waters of the Gulf of Thailand.
The ecological tourists should not go past Khao Nam Khang National Park.