Hirosaki
Resort type:

City resort

Landscape:

Town, Mountains, Lakes, Riverside

What to do:

Culinary Tourism, Mountain Trails, Natural Parks & Reserves, Historical & Architectural Monuments, Hiking, Rafting & Kayaking, Thermal & Mineral Springs, Shopping, SPA, Nightlife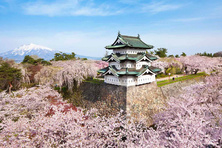 Hirosaki is a large Japanese city in Aomori Prefecture, Tohoku region. It is situated in Honshu Island to the south of the Mount Iwaki. The city is surrounded by such other cities as Odate, Tsugaru, Hirakawa and by towns Owani, Fujisaki, Itayanagi, Tsuruta. The total area of Hirosaki is over 500 square kilometres.
The main sight of the city which attracts the lovers of the excursion tourism is a renovated Hirosaki Castle. It is a museum now with a beautiful garden around the building. Among some other interesting historical and architectural monuments are Iwakiyama Shrine, Saisho-in Temple, a local Hirosaki Catholic Church. Anyone can go on a prefecture excursion tour and see the ruins of Sannai-Maruyama Site or visit Aomori Museum of Art.
Spending your holidays in Hirosaki in spring, the tourists will enjoy the beauty of cherry blossoms. The cherry trees grow all over the city. This event is celebrated during Hirosaki Cherry Blossom Festival, which attracts a lot of people to the city.
The ecological tourists love to walk in Hirosaki Apple Park or Hirosaki Castle Botanical Garden. You can also go to Choshi Otaki Waterfall and Tsutanana Pond.
There is a wide choice of activities for the extreme tourists. They can try their hand at rafting, kayaking on the Oirase River or go hiking in the Hakkoda Mountains.
The wellness tourists can visit the baths Tomita no Shitsuko built near the local hot springs. A hotel Ricorso Hirosaki has a wellness centre where anyone can have toning and relaxing spa treatments.
You can treat yourself to the traditional Japanese delicacies in such restaurants as Takasago and Matsunoki. The clubs Blue Snake and Konigiri open their doors for everyone at night. The malls Apurizu, Ion Town Hirosaki Hinokuchi and Elm Mall invite you to make purchases.