Hiroshima
Resort type:

City resort

Landscape:

Town, Seacoast, Plain, Hills

What to do:

Cycling, Horse Riding, Boat Trips, Wellness Tourism, Historical & Architectural Monuments, Yachting & Sailing, Hiking, Thermal & Mineral Springs, Shopping, Nightlife, Zoos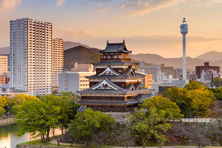 Hiroshima is a capital city of Hiroshima Prefecture. It is situated in the south-west of Honshu Island. It is the largest city in a Japanese region Chugoku.
Hiroshima is well-known to many people as a city where the first nuclear bombardment in the world occurred. Today, memorials and monuments in the city remind of those tragic events. The tourists will visit Gembaku Dome or Atomic Bomb Memorial. The building was built in 1915 as an exhibitions centre, but in 1945 it was severely damaged by the bombardment. Today, it is inscribed on the UNESCO World Heritage List. Practically all architectural sights damaged by the bombardment were restored.
The tourists can also go to an excursion to Hiroshima Castle, which is believed to be the most beautiful building in Japan. Today, there is a museum. A collection of Japanese swords is a real treasure.
The active tourists can go horseback riding or biking in the parks and squares of Hiroshima. In Hiroshima City Forestry Park, there are trekking and hiking routes. In Hiroshima Botanical garden, you will see rare species of Japanese plants. Anyone can go on a cruise along the Motoyasugawa River, try their hand at yachting or sailing. The cruises are arranged at Etajima Kisen.
The lovers of a wellness tourism will have a swim in hot springs Ondo Onsen.
If you love cinema, do not miss a chance to see the newest movies in Yokogawa Cinema. Children will have a fun time in Asa Zoological Park. In Senda Park, you will find many playing areas and sports grounds.
Hiroshima is an ideal place for shopping. Large malls, stores and market offer a wide choice of Asian or European brands. A popular mall is Hiroshima Hon Dori Shotengai.
Asian cuisine is served in Roopali Wakakusamachi. In Parco della Pace, you will try genuine Italian pizza. Stevie's Wunder bar welcomes everyone who likes the nightlife.