Hokkaido
Resort type:

Country resort

Landscape:

Mountains, Broadleaf Forest, Seacoast, Lakes, Island, Oceanfront, Plain, Riverside, Coniferous Forest

What to do:

Mountaineering, Cycling, Culinary Tourism, Golf, Diving & Snorkelling, Natural Parks & Reserves, Wellness Tourism, Historical & Architectural Monuments, Gliding & Paragliding, Yachting & Sailing, Hiking, Rafting & Kayaking, Surfing, Windsurfing & Kitesurfing, Thermal & Mineral Springs, Shopping, Nightlife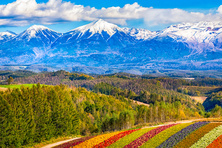 Hokkaido is a large Japanese island washed by the waters of the Sea of Japan, the sea of Okhotsk and by the Pacific Ocean. It is situated in the north of the country. The total area is 83.400 square kilometres. Sapporo is a capital city.
The island is a great destination for the ecological tourism as it has an amazing nature with plains, mountains, lakes and rivers. A group tour to Shiretoko National Park is arranged for the tourists. The park is a UNESCO site. It is known for its picturesque lakes linked between each other by the paths. There is also Kamuiwakka Hot Falls. You can also visit Akan National Park and Daisetsuzan National Park.
On the coasts of the Sea of Japan, there are some resorts. There you can try your hand at diving, parasailing and windsurfing. The lovers of surfing and kiting prefer the coast of the Pacific Ocean. The extreme tourists can go climbing, try their luck and conquer the Mount Asahi. Hiking and biking tours, yachting, rafting and kayaking are also popular with the tourists.
If it is city entertainments you are after, then you should stay in the capital. Bars and night clubs welcome everyone to have a fun time. For example, Buti, Morrow Zone and Vanity. In Sapporo Bay Golf Club, you can play golf. Go shopping at such malls as JR Tower, Sapporo Factory and Sapporo Esta.
Sapporo Snow Festival attracts a lot of tourists to the city.
If no holiday is complete for you without excursions, you can go on an excursion tour to see historical and architectural monuments. Jomon Archaeological Sites in Hokkaido are of a great interest. You can also visit Abashiri Prison Museum and Goryokaku Tower.
The wellness tourists come to Hokkaido to have a swim in hot springs, for example, Noboribetsu, Jozankei and Toyako.
The foodies will try the Japanese cuisine in the restaurants Kinzushi and Picante.