Huvadhoo Atoll
Landscape:

Atoll, Oceanfront, Tropical Forest

What to do:

Culinary Tourism, Diving & Snorkelling, Natural Parks & Reserves, Wellness Tourism, Yachting & Sailing, Safari, Surfing, Windsurfing & Kitesurfing, SPA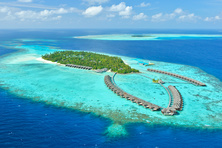 Huvadhoo Atoll is one of the largest atolls in the Maldives, situated in the Indian Ocean. It is divided on 2 administrative atolls: the Southern Huvadhu Atoll and Northern Huvadho Atoll. The total area is 2.900 square kilometres.
Huvadhoo Atoll resorts are ideal both for the people who love beach holidays and the extreme tourists. The coastal area of the atoll is rich in coral reefs and grottoes which attract divers. The active tourists can go kiting, yachting, windsurfing, sailing, scooter riding and water skiing. Snorkelling is especially popular with the tourists as they can watch morays and small sharks. Be aware, however, that diving outside touristic zones requires a special permission.
The ecological tourists will be amazed by the beauty of oceanic landscapes and untouched tropical forests. Anyone can go yachting along the coast or go on safari to palm groves.
The tourists can stay in cozy bungalows of the hotels Ayada Maldives and Outrigger Konotta Maldives Resort.
The event tourism is not developed here.
You can buy souvenirs in the shops at the hotels. You will have a good shopping experience at a mall Male.
A good climate, clean air and a favourable ecological situation attract a lot of wellness tourists to Huvadhoo. The hotels Amari Havodda Maldives and Park Hyatt Maldives Hadahaa have wellness centres where one can have toning spa treatment.
As there are no historical and architectural monuments in the atoll, you can go on a tour to the natural sights. You can also go to the capital city and see Grand Friday Mosque.
The foodies will enjoy authentic seafood dishes in hotel restaurants.
If it is a nightlife you are after, then you can go to bars in the hotels.