Schaffhausen
Resort type:

City resort

Landscape:

Town, Mountains, Broadleaf Forest, Lakes, Riverside, Coniferous Forest

What to do:

Culinary Tourism, Horse Riding, Wellness Tourism, Historical & Architectural Monuments, Gliding & Paragliding, Hiking, Caves, Sport Tourism, Rafting & Kayaking, Fishing & Spearfishing, Surfing, Windsurfing & Kitesurfing, Shopping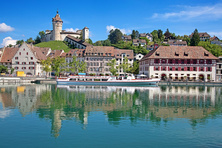 Schaffhausen is a Swiss city and the administrative centre of Canton of Schaffhausen situated in the valley of the Rhine River at the foot of the Randen Mountain Range. The city is situated in the northeast part of the country close to the border with Germany. Its total area is about 31 square kilometres. The city is 51 kilometres away from Zurich and 29 kilometres away from Winterthur.
The fantastic nature of the suburbs of Schaffhausen attracts the ecological tourists. They will see the Rhine Falls and take a walk in Klettgau Valley. The lovers of natural sights will surely want to go to the Constance Lake with its crystal water.
The extreme tourists can try their hand at horseback riding, parachuting, kayaking, rafting, rope jumping and lake windsurfing. They can also go fishing on the Untersee Lake.
The city preserved historical or architectural monuments and it is an interesting place for those who prefer the excursion tourism. The most interesting sights are Fortress Munot, Schweizersbild Paleolithic Cave, Herblingen and Gruthalde Neolithic Settlements which are the sites of the national importance. The tourists can also visit Museum Zu Allerheiligen and Museum Kloster Sankt Georgen.
The local hotels have restaurants on site offering traditional Swiss cuisine. Restaurants of Zurich serve Italian, French and international dishes. The best restaurants of the city are Pavillon, Lindenhofkeller и Ristorante Da Angela.
If you stay in the capital city, you can go shopping at such malls as Allerlei, Apotheke Herblingermarkt and Marionnaud.
Medical centers of Schaffhausen attract the wellness tourists to the city. You will feel a positive effect of a mountain air and a favourable ecological situation on your health.
The nightlife is not very active here but you can always find some bars in the hotels.