Edmonton
Resort type:

City resort

Landscape:

Town, Prairie, Riverside

What to do:

Aquaparks, Cycling, Golf, Downhill Skiing, Natural Parks & Reserves, Casinos, Boat Trips, Historical & Architectural Monuments, Gliding & Paragliding, Amusement Parks, Yachting & Sailing, Hiking, Sport Tourism, Rafting & Kayaking, Surfing, Windsurfing & Kitesurfing, Nightlife, Zoos, Oceanariums & Dolphinariums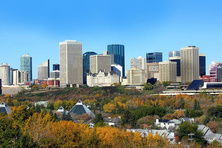 Edmonton is a capital city of the western Canadian province Alberta. It is situated on the shores of the North Saskatchewan River.
The lovers of city entertainments choose Edmonton. The most visited place in the city is Alberta Legislature Building built in 1911. Next to the building there is a swimming pool available in summer and a skating rink which works during the winter months. An iconic religious sight is Saint Joseph's Basilica. In Fort Edmonton Park, the tourists will acquaint themselves to every period of region's colonisation. This park is an open-air museum. On its territory, an old train is going and everyone can ride it. The tourists will see episodes from the life of the Indians, an old wooden fort and the first cars that appeared on the streets Of Edmonton.
There are about 30 museums and galleries in the city. Many tourists do their best to come to Muttart Conservatory, which is 3 glass pyramids showing natural diversity of 3 climatic zones. In the World of Science museum, there is a Planetarium and an IMAX cinema.
The ecological tourists will have a great chance to walk in the parks or natural zones of the city and its suburbs. The tourists can have a picnic, go hiking or trekking, take an ecological tour, ride a bike or have a jeep ride. In Elk Island National Park, you can see Grizzly bears and buffalos. Sunridge Ski Area welcomes all the fans of skiing. The active tourists will have a great time in Linetech Ziplines. Make your journey even more memorable by going to a casino or playing golf. Sundance Balloons arrange hot air balloon rides.
There is also a wide choice of water activities such as kayaking and canoeing, rafting, boat trips, kiteboarding, surfing and sailing. You can order a boat trip at Go Sailing. At Leading Edge Kiteboarding, they will teach you the basics of kiteboarding.
Those who come to Edmonton with children should definitely go to amusement parks. There is also Valley Zoo, an aqua park World Waterpark, an amusement park Galaxyland and an aquarium Marine Life. In West Edmonton Mall you will have a great shopping experience.
The European and Canadian cuisines are served in Hardware Grill. You will have a great time in a night club Filthy McNasy's.