Exuma
Resort type:

Beach resort

Landscape:

Seacoast, Island, Tropical Forest

What to do:

Cycling, Golf, Diving & Snorkelling, Natural Parks & Reserves, Boat Trips, Yachting & Sailing, Hiking, Caves, Sport Tourism, Rafting & Kayaking, Fishing & Spearfishing, Surfing, Windsurfing & Kitesurfing, Nightlife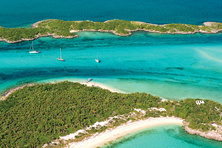 Exuma is an archipelago which belongs to the Bahamas. A line of 365 small islands of Exuma stretches for 200 kilometres in the Caribbean Sea. This sea resort attracts the people who want to enjoy the untouched exotic nature.
The central island is the Great Exuma Island with the capital city George Town. The touristic infrastructure is well-developed here. The tourists can stay in fashionable 5-star hotels, simple hostels or even small fisherman houses. Bars, restaurants and nightclubs open their doors for the tourists.
The ecological tourists choose Exuma to visit the first Exuma Land and Sea Park in the world where they enjoy the untouched nature of the Bahamas.
Exuma is a true paradise for the divers. Crystal clear sea water and many underwater objects attract the active tourists. The best places for diving are Thunderball Grotto, Mystery Cave, Angelfish Cave and Bottomley's Blue Hole.
Holidays in Exuma cannot be imagined without seeing beautiful coral reefs and exotic sea animals. Some interesting places for the tourists are Dog Rocks Reef and Jeep Reef. In Amberjack Reef there is a special entertainment for the extreme divers – feeding the sharks.
In addition to diving and snorkelling, the tourists can try their hand at sailing and boating, yachting and kayaking, surfing, windsurfing and kitesurfing. Anyone can also go water skiing, motor cycle riding or deep underwater fishing. If you get tired of water activities you can play golf, tennis, volleyball, go hiking or biking.
Exuma is an ideal place for family holidays with children. Warm Caribbean waters and impeccable sandy beaches with shallow water attract the tourists who want to spend some lazy time on the beach. The Tropic of Cancer Beach and the Three Sisters Beach are the best on the islands.