Eleusis
Resort type:

Country resort

Landscape:

Town, Hills, Bay Coast, Flora of the Mediterranean

What to do:

Culinary Tourism, Diving & Snorkelling, Ancient Monuments of Civilization, Boat Trips, Historical & Architectural Monuments, Amusement Parks, Yachting & Sailing, Fishing & Spearfishing, Surfing, Windsurfing & Kitesurfing, Nightlife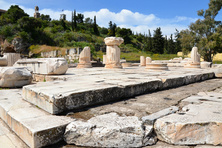 Eleusis is an administrative centre of a Greek unit West Attica. It is situated on the shore of the Saronic Gulf 22 kilometres away from Greece capital Athens.
Antique ruins of the city present a great interest for the lovers of history. In the 2nd century B.C. the city got known for the Eleusinian Mysteries. Those were secret religious rites which took place in every city and town in spring and in autumn.
The archaeological excavations have taken place in the city since the end of the 19th century. In the result of the excavations, a sacred path was found. The path led from the capital city of Greece to Eleusis. The tourists will see the ruins of Demetra's Temple and Telesterion built in the 5th century B.C. During an excursion, the tourists will see the necropolis, megaron, Temple of Artemis and also building of the Roman epoch. During archaeological expeditions, valuable artefacts were discovered and now they are preserved by Archaeological Museum of Eleusis. A true hallmark of the exposition is Eleusinian gold amphora dated back to the 7th century B.C.
There is a wide range of activities in Eleusis from yachting, diving, windsurfing to fishing, surfing or kiteboarding.
Go shopping to the accessories store Beauty Cosmetics. Families will have a great time in an amusement park Village Elefsina. If it is a nightlife you are after, a nightclub Must welcomes you. The Greek cuisine is served in La Bottiglia.