Engelberg
Resort type:

Ski resort

Landscape:

Mountains, Valley, Broadleaf Forest, Lakes, Coniferous Forest, Alpine Meadows

What to do:

Mountaineering, Culinary Tourism, Downhill Skiing, Mountain Trails, Natural Parks & Reserves, Casinos, Wellness Tourism, Gliding & Paragliding, Hiking, Snowboarding, Festivals & Carnivals, Nightlife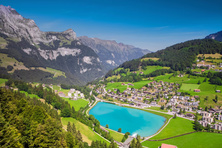 Engelberg is a Swiss skiing resort in Kanton Obwalden in the central part of the country. It is 90 kilometres away from Zurich and 35 kilometres away from Lucerne.
Engelberg has different slopes both for the beginners and the experienced skiers. Thos who here with children should choose a skiing area Brunni in the north of the resort. Here there are training skiing trails and 5 chairlifts. The experienced sportsmen choose Klein Titlis. Equipped with big-air and half-pipes Terrain Park is a popular place for snowboarding.
The active tourists will not get bored in Engelberg. They can go skiing, hiking, sledding and skating, play tennis and go climbing on a rock climbing training wall.
The extreme tourists will have a wide choice of activities from climbing, paragliding, tobogganing to carving and bobsleighing.
In summer, Engelberg becomes a centre of the ecological tourism. The tourists can go trekking, collect medicinal herbs or visit UNESCO Biosphere Entlebuch.
Dporting events and festivals always attract many tourists. The most popular competition among the tourists is a snowboarding contest Ice Ripper Style Trophy.
The wellness tourism come to Engelberg to breathe clean mountain air. At the local hotels, there are saunas and spa centres where one can relax after a day on the slopes.
The lovers of the excursion tourism can go to Benedictine Monastery or take a trip to Zurich.
The local restaurants offer typical Swiss cuisine and also serve the dishes of the international cuisine.
At night, you can go to a casino, bars and night clubs.