South Dakota
Resort type:

Country resort

Landscape:

Mountains, Broadleaf Forest, Lakes, Prairie, Plain, Riverside, Coniferous Forest, Hills, Cliffs

What to do:

Aquaparks, Mountaineering, Cycling, Downhill Skiing, Mountain Trails, Natural Parks & Reserves, Historical & Architectural Monuments, Amusement Parks, Hiking, Caves, Sport Tourism, Snowboarding, Shopping, Nightlife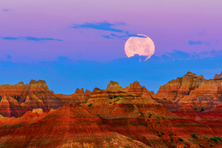 South Dakota is an American state situated in the Midwest. The capital city is Pierre.
Natural landscapes and parks of South Dakota are the reason why this state is so attractive for the active tourists. They will have a possibility to go climbing, hiking, trekking and canyoning. Sioux Falls Bike Trails organizes biking excursions. In winter, the fans of snowboarding and alpine skiing gather on the Terry Peak.
In this region, there is Jewel Cave, which is the second largest cave in the world. The tunnels of the cave are 257 kilometres long. It is 193 meters deep. Those who love speleology will go on a tour to explore the labyrinth of the cave.
The main sight of the state is Rushmore Mount. Sculpture of the Founding Fathers of the United States is carved. The tourists can also enjoy the beauty of the Park Falls.
The fans of motosport should not miss a chance to take part in the largest Sturgis Motorcycle Rally in the world.
In Reptile Gardens in Rapid City, the tourists will watch the turtles and other animals.
Among the most interesting architectural monuments is the State Capitol in Pierre and Saint Joseph Cathedral in Sioux Falls. The best place for family entertainments is Wild Water West aqua park. In Thunder Road Family Fun Park there are amusement rides to every taste. You can play bowling in Sports Bowl. Elan Healing Arts offers spa treatments with aromatherapy and acupuncture.
Shoppers should go to The Empire mall in Sioux Falls. In Horse Barn Arts Center you can buy unique handmade souvenirs.
The official dessert of the state is a pie with various fillings Kuchen. You can try it in Independent Ale House restaurant. In Champps Sioux Falls, you will see a spectacular show.