South Carolina
Resort type:

Beach resort

Landscape:

Mountains, Broadleaf Forest, Lakes, Oceanfront, Plain, Riverside, Mixed Forest, Coniferous Forest, Hills

What to do:

Aquaparks, Natural Parks & Reserves, Historical & Architectural Monuments, Amusement Parks, Surfing, Windsurfing & Kitesurfing, Shopping, Nightlife, Zoos, Oceanariums & Dolphinariums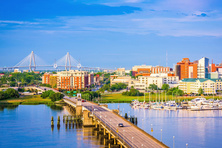 South Carolina is a state in the southeast of the USA. The capital city is Columbia. The largest cities of the state are Charleston, Rock Hill and Spartanburg.
On the Atlantic Sea coast, there are fantastic beaches. The best place for surfing is Folly Beach.
The lovers of the excursion tourism will want to go to Columbia to see the main sights. For example, Redcliffe Plantation State Historic Site, Brattonsville Historic District and South Carolina State House. Do not miss a chance to go to Charleston and visit Fort Moultrie or National Museum of Hampton Plantation.
The ecological tourists will love this state. During their vacation, they can visit Devils Fork, Paris Mountain and Table Rock parks situated in Greenville. In Myrtle Beach, there are such national parks as Huntington Beach, Little Pee Dee and Waccamaw National Wildlife Refuge. The tropical nature of the Daufuskie Island attracts many tourists.
The guests of the city who come here with children will have a great time in Riverbanks Zoo in Columbia. In Myrtle Beach, they will find Family Kingdom, Myrtle Beach Pavilion; such aqua parks as Splashes Oceanfront, Myrtle Waves and Wonder Works museum. In Charleston, there is the South Carolina Aquarium.
You can go shopping to Charleston City Market or Columbia's malls Columbia Place and Dutch Square.
The best restaurants of Columbia are Alodia's, Blue Marlin and Solstice Kitchen.
The lovers of discos are welcomed in Revolutions Nightclub, 2001 Nightclub and Karma Ultimate Teen Nightlife in Myrtle Beach.