South Coast
Resort type:

Beach resort

Landscape:

Mountains, Seacoast, Tropical Forest, Hills

What to do:

Culinary Tourism, Natural Parks & Reserves, Wellness Tourism, Hiking, Fishing & Spearfishing, Safari, SPA, Nightlife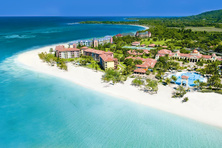 South Coast is a resort on the Caribbean Sea coast extending from the south to the west to the Jamaica Island. It is 140 kilometres away from Kingston and 95 kilometres away from Montego Bay.
The south coast of Jamaica is especially popular with the ecological tourists thanks to its untouched by the civilized nature. Along the coast, there are small hotels and bungalows which do not spoil the natural landscape. As there are many rivers here, the tourists can go fishing. One can also go hiking in the jungles or go on a safari tour in the mangroves. In the Black River National park, the tourists will watch the wild animals. The tours to YS waterfalls are also popular with the tourists.
The southern coast is ideal for a romantic beach vacation and many newlyweds prefer to come here to spend their honeymoon. Treasure Beach gained its popularity thanks to unusual black sand.
Favourable climate, clean waters and fresh air attract the wellness tourists to Jamaica. Fresh fruits or vegetables grown by the locals and seafood rich in calcium and phosphorous have a positive effect on the wellbeing. Sandals Whitehouse European Village & Spa has a spa centre on site offering spa treatments and a massage.
Those who prefer the excursion tourism can go on a tour around the island and visit Alligator Pond Village or Bob Marley Museum.
In the restaurants of the resort, you will try traditional Jamaican dishes and discover Rastafarian cuisine.
There is no nightlife on the coast. In some hotels, you will find small bars.