South Island
Resort type:

Country resort

Landscape:

Mountains, Valley, Canyon, Broadleaf Forest, Lakes, Island, Plain, Riverside, Tropical Forest, Coniferous Forest, Hills, Bay Coast, Cliffs, Alpine Meadows, Strait

What to do:

Downhill Skiing, Natural Parks & Reserves, Hiking, Rafting & Kayaking, Fishing & Spearfishing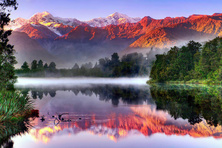 The South Island is the largest island in New Zealand. It is separated from the North Island by the Cook Strait. The capital city is Christchurch.
Along the western coast, there are the Southern Alps and the Cook Mount, the highest peak in New Zealand. At the foot of the mountain, there is a picturesque valley which attracts the ecological tourists. They can also visit the Pukaki lake, Farewell Spit and Franz Josef glacier.
The South Island is a good place for the extreme tourists. They can conquer fjords, mountain rivers, and glaciers. There is everything they may need for hiking and climbing, bungee jumping, kayaking or rafting. On the coast, the tourists will find tropical forests. Numerous rivers and lakes attract the lovers of fishing.
Many tourist routes start in Christchurch and Picton. Cook Mount National Park is of a great interest. Alongside the mountains, there are rocky bays and sandy beaches.
Those who want to relax on the beach can go to Karmandel Peninsula or Taranaki Peninsula, where a world centre of beach volleyball can be found.
In the South Island there is Queenstown, the post popular ski resort in New Zealand.
In the South Island you will find theatres, concert halls and art galleries. You will be impressed by spectacular night shows.
The restaurants of the South Island offer a fantastic menu with the New Zealand cuisine.