Utah
Resort type:

Country resort

Landscape:

Mountains, Valley, Canyon, Broadleaf Forest, Lakes, Desert, Plain, Riverside, Coniferous Forest, Cliffs

What to do:

Natural Parks & Reserves, Historical & Architectural Monuments, Hiking, Shopping, Nightlife, Zoos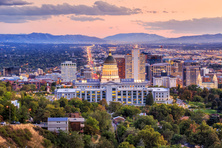 Utah is a state in the USA situated in the Rocky Mountains. It borders Wyoming, Colorado, Arizona, Nevada and Idaho. The capital of the state is Salt Lake City. The largest cities are Ogden and Provo.
The main sight of Utah is the Salt Lake, located near the capital city. The lake inscribes on the UNESCO World Heritage List. The tourists will see other natural sights of the state such as Bingham Canyon, Bridal Veil Falls, Monument Valley and Goblin Valley. You can also go on an excursion trip to the national park and reserves. For example, Arches National Park, Canyonlands National Park, Dixie National Forest and Bryce Canyon National Park.
The lovers of the excursion tourism will get themselves acquainted with Salt Lake City Assembly Hall, Utah State Capitol, Salt Lake Temple and Downtown Salt Palace.
If you want to learn more about the state, you should go to Natural History Museum of Utah, Utah Museum of Fine Arts and Golden Spike National Historic Site.
The tourists with kids will have a great time in Hogle Zoo and Clark Planetarium.
The shoppers will want to go to the City Creek Center. The foodies will enjoy their meals in such restaurants as Valter's Osteria, Bombay House and Red Iguana.
At night, Liquid Joes, Legends and Granite Club clubs open their doors.