Yala National Park
Resort type:

Country resort

Landscape:

Mountains, Jungle, Lakes, Oceanfront, Riverside, Savanna, Tropical Forest

What to do:

Diving & Snorkelling, Natural Parks & Reserves, Historical & Architectural Monuments, Fishing & Spearfishing, Safari, Surfing, Windsurfing & Kitesurfing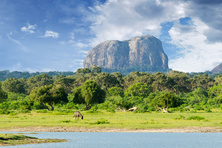 Yala National Park is the oldest park in Sri Lanka which is known for its beautiful nature and exotic animals many of which are endangered. Yala is located in the southeast of the country on the coast of the Indian Ocean. It belongs to Uva Province and Southern Province. The distance from the Park to the largest city Colombo is 270 kilometres.
Staying in Yala is a unique opportunity to see such rare animals as Sri Lankan leopard and elephant, buffaloes, deer, monkeys, crocodiles, a great number of birds. Impassable jungles or green savannas, mysterious mountains and sandy dunes, shallow rivers or lakes – you can see these all in Yala National Park.
The only way to visit the Park is to go on a jeep excursion. There are two routes: a short one which lasts for 3 hours and a long one for a whole day. There is also a two-day safari with overnight staying in special huts on the territory of the park.
The touristic infrastructure is well-developed in a neighbouring village Tissamaharama which is 24 kilometres away from Yala. There are many hotels or campings both affordable and luxury.
Yala National Park is famous not only for its wild nature, but also for great beaches. The guests of the Park will enjoy the warm waters of the sea and golden sand on Yala Beach or Kirinda Beach. The south-eastern park is known for its picturesque coast with numerous bays and dunes. The active tourists can go diving and snorkelling, surfing or windsurfing. You can also go fishing and catch some exotic fish.
Those who want to learn more about the culture of the country should definitely visit a small village Kataragama, which is 15 kilometres away from Yala. Kataragama is a pilgrimage destination for the Hindus, Buddhists, Muslims. Kataragama Temple or the Manic Ganga River attracts the pilgrims and the tourists, who want to cleanse their souls and heal their bodies.