Byblos
Resort type:

Country resort

Landscape:

Town, Mountains, Seacoast, Flora of the Mediterranean

What to do:

Culinary Tourism, Golf, Diving & Snorkelling, Ancient Monuments of Civilization, Wellness Tourism, Historical & Architectural Monuments, Yachting & Sailing, Surfing, Windsurfing & Kitesurfing, Festivals & Carnivals, Shopping, SPA, Nightlife, Religious Pilgrimage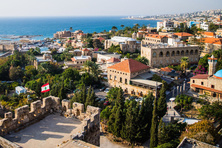 Byblos or Jubayl is an ancient city situated on the coast of the Mediterranean Sea in the western part of Lebanon. It is 40 kilometres away from Beirut. The territory of the city and all the buildings here are under UNESCO protection as a union World Heritage Site.
As Byblos has a centuries-long history and preserved many monuments of ancient civilisations, which were discovered during the excavations, this city is a center of the excursion tourism of the universal importance. The tourists will visit a Crusader Castle, the Khalil Gibran Museum, and the Tomb of King Hiram. The pilgrims should visit an old Saint John the Baptist Temple.
On the restored City market of Byblos in the centre of the city, the tourists can buy different souvenirs, clothes, and shoes.
If you are lucky you can visit one of the local events in Byblos. The annual Byblos International Festival is very popular and this event takes place under the patronage of UNESCO.
Byblos will not disappoint those who love to spend a lazy time on a beach. There are well-equipped sandy beaches. The coastal hotels have the centres of diving, windsurfing, and kiting. The active tourists can go snorkelling, yachting, sailing, play golf or tennis.
In large hotel complexes, there are casinos, children's playgrounds, water-pools, and amusement rides. The local wellness centres offer massage and spa treatments.
The most popular restaurants among the foodies are Kanater, Annaya, Malena, and Adonai Le Petit Libanis. The restaurants offer the African, French, Turkish, and Japanese cuisines.
If you want to stay up at night go the clubs 360 Rooftop, Liquid Night Club, and Vulkan.