Idaho
Resort type:

Country resort

Landscape:

Mountains, Canyon, Broadleaf Forest, Lakes, Riverside, Coniferous Forest

What to do:

Mountaineering, Culinary Tourism, Natural Parks & Reserves, Wellness Tourism, Historical & Architectural Monuments, Gliding & Paragliding, Hiking, Rafting & Kayaking, Thermal & Mineral Springs, Festivals & Carnivals, Nightlife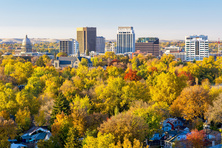 Idaho is an American mountain state with the total area of over 216.000 square kilometres situated in the north-west of the country. On the north, it borders Canada. It neighbours such states as Nevada, Wyoming, Utah, Colombia, Oregon, Montana and Washington. Boise is a capital city of the state.
The natural diversity of Idaho and such unique sites as Craters of the Moon National Monument make the state a popular centre of the ecological tourism. There is an interesting tour to the Coeur d'Alene Lake and Redfish Lake. The tourists will be impressed by the waterfalls Mesa and Shoshone. They can also go hiking in the Schweitzer Mountain. The most attractive sight in the state is Yellowstone National Park, which is under UNESCO protection.
The popularity of the event tourism in Idaho is growing thanks to such events as Boise Music Festival and Boise Film Festival which take place in the capital city.
You will have a great shopping experience in such malls as Boise Town Square, Westgate, Northgate and Vista Village. The lovers of the nightlife can dance in the clubs Buffalo, Balcony and China Blue.
During an excursion tour to the historical and architectural monuments, you will see Idaho State Capitol Building, Saint John's Cathedral and Christ Chapel.
If you need a rush of adrenaline you can try your hand at kayaking, climbing, rafting, paragliding and parachuting. The active tourists will have a chance to conquer the Borah Peak, the highest peak in the state. Hells Canyon is also a very popular place with the tourists.
Thanks to hot springs Downata and Burgdorf, the lovers of the wellness tourism come to Idaho.
The foodies will surely enjoy their meals in Barbacoa, Bluebird and Bittercreek Alehouse.