Bogota
Resort type:

City resort

Landscape:

Town, Mountains, Broadleaf Forest, Lakes, Riverside, Tropical Forest, Volcanoes

What to do:

Cycling, Culinary Tourism, Golf, Mountain Trails, Diving & Snorkelling, Natural Parks & Reserves, Horse Riding, Wellness Tourism, Historical & Architectural Monuments, Gliding & Paragliding, Amusement Parks, Hiking, Rafting & Kayaking, Festivals & Carnivals, Nightlife, Religious Pilgrimage, Zoos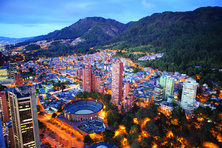 Bogota is a capital city of the Republic of Colombia and the major city of the Cundinamarca Department situated in the Cordillera Oriental Mountain Ranges in the central part of the country. The total area of the municipality is 1.775 square kilometres.
A lot of museums, exposition halls, churches, historical and architectural monuments make the capital city of Columbia the main excursion centre of the country. In Bogota, the tourists can visit Virgilio Barco Library and take a walk in the University City of Bogota. Both buildings have a status of national monuments and they are UNESCO candidate sites as well.
The tourists with children should definitely visit the amusement park Mundo Aventura, the Zoo on the territory of Jaime Duque Park, and Cici Aquapark.
Bogota regularly holds musical concerts, theatre performances, shows, fairs, celebrations, and festivals attracting the tourists from all over the world. The most popular event is Bogota Film Festival.
Special tours to the churches are arranged for the pilgrims. Pay a special attention to La Candelaria Convent, San Ignacio Church, and La Tercera Temple.
Unique natural landscapes, picturesque rivers, lakes, and forests in the country of Bogota make the city an attractive place for the ecological tourism. The tourists can visit such reserves as Chingaza and Natural Sumapaz.
City wellness centres such as Wellness Spa Movil Center, Pinatubo Spa or Compensar Calle 94 offer toning spa treatment.
In Bogota, there are all the conditions for horseback riding, paragliding, rafting, and lake diving. There are mountain trekking and biking routes.
The foodies will treat themselves to the delicacies of the Columbian, Italian, Spanish, and French cuisines in the restaurants La Tartine, Pajares Salinas, and Pimento Cucina Italiana.
The best night clubs in Bogota are Rock and Roll Circus, La Piscina, and El Castillo VIP.