Iowa
Resort type:

Country resort

Landscape:

Plain, Riverside, Hills

What to do:

Mountaineering, Culinary Tourism, Natural Parks & Reserves, Wellness Tourism, Hunting, Historical & Architectural Monuments, Gliding & Paragliding, Amusement Parks, Rafting & Kayaking, Fishing & Spearfishing, Festivals & Carnivals, Shopping, SPA, Nightlife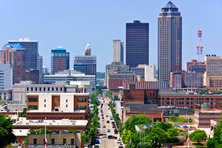 Iowa is a state with the total area of 145.750 square kilometres situated in the central part of the United States of America. It neighbours Missouri, Minnesota, Illinois, Nebraska and Wisconsin. Iowa consists of 99 administrative divisions. Des Moines is the capital city of the state.
The nature of the state with untouched forests and fields attract to Iowa the ecological tourists. In DeSoto National Wildlife Refuge, the tourists can explore the ecological system of the Missouri River valley, watch coyotes and whitetail deer. Trips to Effigy Mounds National Monument and Neal Smith National Wildlife Refuge are also very popular with the travellers.
If you stay in the capital city, you can go to the amusement park Adventureland, shopping malls Park Fair Mall, Southridge Mall and Wakonda. At night, you can dance and have a fun time in Los Caporales, Vision or Lime Lounge.
Many people come to Iowa to participate in such events as Des Moines Arts Festival and Hinterland Music Festival.
During an excursion tour to the historical and architectural monuments, you will see Capitol Building or visit Ushers Ferry Historic Village.
The extreme tourists will have a wide choice of activities in Iowa. The local mountain resorts offer everything you may need for climbing, rafting, kayaking, paragliding, parachuting, canyoning and you can even fly an aircraft. In DeSoto reserve, anyone can go fishing and hunting.
Medical centres in Des Moines are popular with the wellness tourists. A wellness centre East Village Spa offers toning spa treatments.
The foodies should not go past, such restaurants as Centro and Django.