Boston, Massachusetts
Resort type:

City resort

Landscape:

Cove, Town, Bay Coast

What to do:

Culinary Tourism, Diving & Snorkelling, Wellness Tourism, Historical & Architectural Monuments, Gliding & Paragliding, Yachting & Sailing, Hiking, Surfing, Windsurfing & Kitesurfing, Festivals & Carnivals, Nightlife, Religious Pilgrimage, Zoos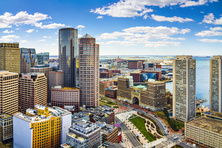 Boston is an American metropolitan city and a capital of Massachusetts State. The city is situated in the north-west of the country on the coast of the Boston Harbor of the Massachusetts Bay with an access to the Atlantic Ocean. The total area of the municipality is 232 square kilometres.
If you come to Boston you will have a chance to acquaint yourself with historical and architectural monuments both old and modern. There are thematic tours to Cambridge and Harvard University, to the Prudential Tower and Museum of Fine Arts.
This city is known for its churches. There are a lot of them. The pilgrims should visit Trinity Church and Old South Church.
Numerous clinics offer a wide range of services from prenatal care and care after delivery to prevention and treatment of various diseases and conditions. This makes Boston a popular centre of a wellness tourism.
If you come to Boston with children you should definitely show them Franklin Park Zoo and underwater animals in New England Aquarium.
The suburbs with their quiet parks attract the ecological tourists.
The event tourism is well-developed in Boston due to different concerts, exhibitions, celebrations, and festivals. The greatest number of people come to the Boston International Film Festival and the Beantown Jazz Festival.
The fans of the extreme tourism will not be bored in Boston. They can go climbing, parachuting, and paragliding. If you have guts you can try your hand at flying a plane. There are also everything and anything for yachting, diving, surfing, and kiting.
In the restaurants in Boston, the foodies will treat themselves to the delicacies of the world cuisines. The best restaurants are Stephanie's on Newbury and Les Zygomates.
The nightlife is humming in such bars as Venu, Felt, and Guilt.