Wadi Rum
Resort type:

Country resort

Landscape:

Mountains, Canyon, Desert, Cliffs

What to do:

Mountaineering, Mountain Trails, Ancient Monuments of Civilization, Natural Parks & Reserves, Carting & ATVs, Safari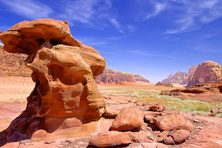 Wadi Rum is a Jordan desert valley situated 60 kilometres away from Aqaba. The total area of the valley is 74.180 Ha. The highest peak is Jabal Umm ad Dami which is 1.830 meters high.
Wadi Rum is a nature reserve under UNESCO protection. This place attracts largely the extreme tourists. Rocks, canyons and mounts are ideal for climbing, cliff climbing or canyoning. The tourists can go on a jeep safari, ride a four-wheeler and camels, tray hang-gliding or climbing. The most popular place for cliff climbing is Jabal Rum. Camel tours are organized at Jabal Rum Camp.
One of the most interesting natural sights is Burdah Bridge Wadi Rum. This is a natural 35-meters arch formed in the rock. On the territory of the valley, the ruins of Nabatean Temple are preserved. The ruins are an acknowledged monument of ancient civilizations. Those who appreciate historical heritage, will want to see thousand years old petroglyphs. In Jebel Khazali, you will see rock art. In the valley, there is Lawrence's Spring but we do not recommend drink from it as the water is not pure.
There are no hotels in the valley. The tourists can stay in Bedouin camps or in campings from Desert Moon Camp. You will find more comfortable accommodation in Aqaba or Petra.
You will have meals in Wadi Rum Reet House. Rum gate restaurant offers buffet service. In Caravans Restaurant, you can have a simple meal in the open air.