Wyoming
Resort type:

Country resort

Landscape:

Mountains, Broadleaf Forest, Lakes, Plain, Riverside, Steppe, Coniferous Forest, Hills, Volcanoes, Cliffs, Alpine Meadows

What to do:

Mountaineering, Cycling, Culinary Tourism, Golf, Downhill Skiing, Mountain Trails, Natural Parks & Reserves, Casinos, Horse Riding, Boat Trips, Yachting & Sailing, Hiking, Fishing & Spearfishing, Safari, Thermal & Mineral Springs, Shopping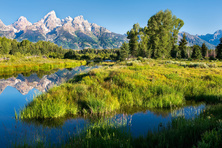 Wyoming is an American state in the west of the country. The capital and the largest city is Cheyenne.
Wyoming will find favour with the lovers of amazing natural landscapes and active tourism. Two-thirds of the state are covered with woods or mountains, volcanic formations and geysers, alpine pastures, valleys. The Great Plains occupy 1/3 of the total area of the region. The tourists can go trekking in the mountains, hiking, horseback riding, biking and jeep safari.
In the west, there are the Rocky Mountains, a favourite place of all the climbers. Professional climbers can try and conquer the Absaroka Range. You will be greatly impressed if you decide to visit the Devils Tower, a sacred place of the Indians.
A natural pearl of the region is Yellowstone National Park, which is located in the crater of a huge volcano and occupies the territory of 9.000 square kilometres. On its territory, you will see many geysers which form hot geothermal water basins. The largest is Grand Geyser, the height of its eruption is 60 meters. In the park, there are 40 waterfalls. The Upper Yellowstone Falls are believed to be the most beautiful.
The lovers of winter activities can stay on such ski resorts as Casper and Jackson. For the active tourists, there is a wide range of activities such as kayaking, canoeing, fishing, sea cruises, sailing or yachting. If you want to get a rush of adrenaline, you can try your hand at skydiving, hang-gliding and ride a hot-air balloon.
The tourists can also play golf, go to casinos, theatres or entertaining centres. Visit Wyoming State Museum to learn more about the state.
You will have a great shopping experience at the malls in Cheyenne. For example, The Wrangler offers a great range of western brands.
The foodies will have a chance to try jerk buffalo in the local restaurants.