Waalwijk
Resort type:

Country resort

Landscape:

Town, Broadleaf Forest

What to do:

Cycling, Culinary Tourism, Golf, Natural Parks & Reserves, Horse Riding, Wellness Tourism, Historical & Architectural Monuments, Amusement Parks, Hiking, Rafting & Kayaking, Fishing & Spearfishing, Safari, SPA, Nightlife, Tennis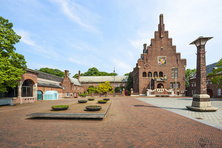 Waalwijk is a city and Waalwijk Municipality in the south of the Netherlands in the Province of North Barbant. The Municipality together with Sprang-Capelle and Vaspik municipalities occupies the territory of more than 67 square kilometres. It is 20 kilometres away from Tilburg and Hertogenbosch.
This community attracts largely the lovers of the ecological tourism with its quietness and beautiful nature. Staying in Waalwijk, the tourists can go fishing, hiking along the Bergse Maas canal and visit Beekse Bergen safari park. Anyone can go on a tour to De Biesbosch National Park.
The tourists with kids should definitely visit the Efteling amusement park, which is 8 kilometres away from the downtown. They will also have a great tine in Dolfino Waalwijk playing centre.
Those who prefer the excursion tourism can visit Nederlands Leder & Schoenenmuseum or Sint Jan De Doper Church. If it is not enough, you can go on an excursion tour to the neighbouring Tilburg and Hertogenbosch. If you take a trip to Rotterdam, you will see the Van Nelle Factory and Kinderddijk Windmills, which are UNESCO sites. From Waalwijk you can go to Antwerp to see Steen Castle, Grote Markt Square, Rubens Museum and Zimmer Tower.
Staying in Waalwijk, the extreme tourists will have a great range of activities such as rafting, kayaking, horseback riding and biking. The active tourists can play squash, tennis, bowling and golf.
In the suburbs of Waalwijk, there are Devarana & Beauty Resort and Thermen Goirle wellness centres offering a massage or relaxing spa treatments.
If you want to try traditional dishes of the Dutch cuisine, visit such restaurants as T Slot, Eetcafe City and De Gulle Lach.
The night life here is not very vibrant. Only 3 clubs open their doors at night. They are Midnight, RKC Nacht Van De 80 and RKC Waalwijk Livescores.