Vanadzor
Resort type:

Country resort

Landscape:

Town, Mountains, Broadleaf Forest, Riverside, Coniferous Forest

What to do:

Wellness Tourism, Historical & Architectural Monuments, Yachting & Sailing, Rafting & Kayaking, Thermal & Mineral Springs, SPA, Tennis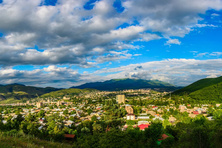 Vanadzor is a capital city of Lori Province in Armenia. It is 145 kilometres away from Yerevan. The city is located between the Bazum Mountain and the Pambak Mountains. The Pambak River, the Vanadzor River and the Tandzut River flow through its territory.
Due to the favourable climate and useful mineral waters, Vanadzor is largely a place for the wellness tourists. Healthy turf "Phioletovsky" and mineral water "Lori" is indicated for treating gastrointestinal conditions, diseases of the nervous, endocrine, urogenital and cardiovascular systems. The treatment also includes physiotherapeutic procedures and Terrainkur. The guests of the resort stay in the Armenia – Vanadzor Spa and Hotel Complex. In addition to treatment, the tourists can also swim in an indoor pool, go to the gym, play football or tennis. Kids can play on the playground. Activities and shows are organized to entertain the guests. The restaurant of the hotel serves the dishes of the Armenian and the European cuisines.
In summer, the tourists can go rafting, sailing, kayaking, canoeing on the rivers Pambak and Vanadzor.
A hallmark sight of the city is Church of The Holy Mother of God. In the 18th century, the Church was destroyed and completely rebuilt in 1831. During an excursion trip, the tourists will see other Orthodox churches built in the 20th century.
The lovers of theatre will want to see performances of Hovhannes Abelyan Dramatic Theater. The kids will love Puppet Theater of Vanadzor.
Food and other things are sold in SMILE Supermarket.
You will try Armenian shashlik in Oasis restaurant. Mr. Freeman PUB offers excellent beer. In Afina, you will treat yourself to seafood delicacies. At night, Garage club opens its doors.