Washington State
Resort type:

Country resort

Landscape:

Mountains, Broadleaf Forest, Lakes, Oceanfront, Tropical Forest, Coniferous Forest, Hills, Volcanoes, Cliffs, Alpine Meadows

What to do:

Downhill Skiing, Natural Parks & Reserves, Historical & Architectural Monuments, Festivals & Carnivals, Nightlife, Zoos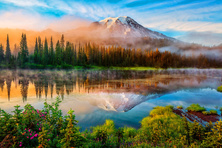 Washington is a state situated in the northeast of the United States of America on the coast of the Pacific Ocean. The capital city is the city of Olympia. The largest cities are Seattle, Spokane and Tacoma.
The central part of the state is cut by the Cascade Mountains. The highest peak is the Mount Rainier the height of which is 4.392 meters. In the west, there is the Strait of Georgia, the Puget Sound bay and the Mount Olympus.
Those who prefer the excursion tourism should start their trip from Seattle. Most of the sights are concentrated in this city. The hallmark of Seattle is Space Needle, tower which is accessible for the tourists. Seattle regularly hosts different festivals and cultural events attracting the lovers of the event tourism.
60 kilometres away from Seattle are popular ski resorts Alpental, Snoqualmie Summit, Ski Eykres and Hayyak.
Those who appreciate history should go to Spokane. Its 18 districts are listed in the National registry of historic places of the USA. More than half of the territory of Spokane is recognized as a historic heritage of the country.
Many tourists who are interested in wine tourism come here to visit a famous Chateau Ste. Michelle winery.
The state finds favour with the ecological tourists. They can visit Mount Rainier National Park and Olympic National Park.
The local eateries and restaurants offer the best dishes of the world cuisines.
In the large cities, you will find bars, nightclubs and discos.