Washington D.C.
Resort type:

City resort

Landscape:

Town, Riverside, Hills

What to do:

Aquaparks, Culinary Tourism, Natural Parks & Reserves, Horse Riding, Wellness Tourism, Historical & Architectural Monuments, Gliding & Paragliding, Amusement Parks, Festivals & Carnivals, Shopping, SPA, Nightlife, Religious Pilgrimage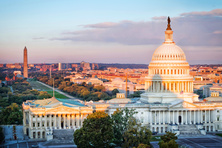 Washington D.C. is the capital of the United States of America located on the Potomac River in the northeast part of the country. It belongs to District of Columbia. The total area of the municipality is 177 square kilometres.
Staying in Washington, the lovers of the excursion tourism should see such important historical and architectural monument as Smithsonian castle. In the city, there is also an International Spy Museum. The pilgrims will want to visit Mormon Church and Washington National Cathedral. Study tours around the city are organized for the tourists.
Thanks to national celebrations and various festivals and holidays, Washington is a popular centre of the event tourism. The majority of the tourists come to the capital to celebrate the Independence Day.
The suburbs of Washington and city parks are popular with the ecological tourists. They can walk in the United States Botanic Gardens and Constitution Gardens.
Washington offers a wide range of activities for the extreme tourists. For example, paragliding, rowing, horseback riding, parachuting, skating, tennis, and golf.
Modern clinics attract the wellness tourists. The city wellness centres offer spa treatments and a massage.
Regular cooking master-classes, workshops and tasting tours find favour with the foodies.
Families with kids will have a great time in Smithsonian National Zoological Park, Six Flags America amusement park and Water Country USA aqua park.
The capital is very popular with the shoppers. You will hardly find anywhere else, so many shops, outlets and malls. Major shopping streets are Wisconsin Avenue and M Street.
The nightlife in Washington with its clubs, bars and discos will satisfy even the most demanding tourists.