Aktobe
Resort type:

City resort

Landscape:

Town, Plain, Riverside, Steppe

What to do:

Natural Parks & Reserves, Wellness Tourism, Historical & Architectural Monuments, Gliding & Paragliding, Amusement Parks, Hiking, Rafting & Kayaking, Festivals & Carnivals, Shopping, Nightlife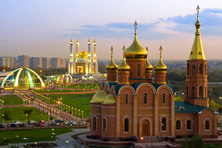 Aktobe is a city and the administrative centre of Aktobe Akimat ('municipal administration') and Aktobe Region; located on the Ilek River in western Kazakhstan. The total area of the municipality is more than 290 sq. km. It is situated 1,500 km away from Astana and 615 km away from Atyrau.
Holidays in Aktobe meet the needs of urban resort lovers for a great deal of things to do. Visitors to the regional capital city will find many bars there; Lokomotiv Cinema, Kinopark Cinema and Kapitan Brig Theme Park; MEGA Shopping Mall, Altai and Alatau Shopping Centers; or nightclubs like Jelen and Tropical.
Although Suhovej Festival ('dry wind') and Stepnoj Akkord Festival ('steppe chord') are held regularly, the event tourism is not very popular in the municipality.
Beach enthusiasts will have an opportunity to get some beach time on the Ilek's riverside as well as on the shores of Sazdinskoe Reservoir and Aktobe Reservoir.
Those who prefer excursion tourism will be offered a guided tour of the city's historical and architectural landmarks. Among these, the Nurdaulet Mosque and the Saint Nicholas of Almaty Cathedral range with the most interesting.
Culinary tourists and their travel companions can sample traditional Kazakh cooking at Aktobe's restaurants: Admiral, Asatu and Artsakh.
Extreme enthusiasts will never get bored during their trip to Aktobe as there they can do paragliding, tandem hang gliding, kayaking rafting, cycling, countryside hiking and sky jumping.
Those going in for ecotourism will find it interesting to take an exotic guided tour of the Irgiz Turgai State Nature Reserve. Nature enthusiasts will discover the region through exploring swamp landscapes in the Turgai Valley and northern Kazakhstan's deserts.
Wellness enthusiasts who go to Aktobe on holidays will be offered to have prevention and treatment procedures at such country health resorts as Shypager and Kargalinka.