Alabama
Resort type:

Country resort

Landscape:

Mountains, Plain, Riverside, Mixed Forest, Coniferous Forest, Bay Coast

What to do:

Culinary Tourism, Diving & Snorkelling, Natural Parks & Reserves, Wellness Tourism, Historical & Architectural Monuments, Gliding & Paragliding, Yachting & Sailing, Rafting & Kayaking, Fishing & Spearfishing, Surfing, Windsurfing & Kitesurfing, Snowboarding, Thermal & Mineral Springs, Festivals & Carnivals, Shopping, Nightlife, Zoos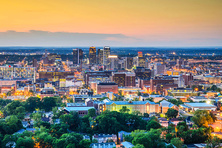 Alabama is a state located in the south-eastern United States. It is bordered by the states of Georgia, Mississippi, Tennessee and Florida. To the south, it faces the Gulf of Mexico. The capital city is Montgomery.
The state attracts both beach and extreme enthusiasts with a snow white sand and clear water at the coastal Gulf Shores and Orange Beach. Outdoor adventurers will have an opportunity to do diving and snorkelling, sailing, kiting, windsurfing, surf riding and yachting. Vacationers can go fishing to Dauphin island's spit or to the shores of Fort Morgan.
In Alabama you can try your hand in piloting a plane, sky jumping, paragliding, kayaking and rafting. Visitors to Mentone can enjoy snowboarding and downhill skiing at Cloudmont Ski & Golf Resort.
Such Alabama's wildlife areas as the Audubon bird sanctuary, the Talladega National Forest and the Little River Canyon National Preserve arouse a continued interest of ecotourists.
Chilton county's mineral springs will help wellness enthusiasts improve their health condition during the tour of the state.
Montgomery hosts many parades, concerts and fairs that are held on the occasion of a holiday or festival. Event tourism lovers shouldn't miss the Riverwalk Wine Festival.
A trip to Alabama will let excursion enthusiasts discover such historical and architectural landmarks as the Moundville archaeological site, Fort Conde, Quinlan castle and the Oakleigh historic complex.
The cities of Birmingham, Huntsville, Auburn and Montgomery are nice places to go shopping.
Culinary tourists and their travel companions can enjoy American, Indian, Japanese and European dishes offered at restaurants in major cities of the state. In the capital, City Grill, Jason's Deli or True Restaurant are good for having a meal out.
Montgomery is a city where the hottest nightlife can be found. Blue Byrd's, Stuckeys and Shack range with the best clubs.