Viseu
Resort type:

City resort

Landscape:

Town, Mountains

What to do:

Culinary Tourism, Diving & Snorkelling, Ancient Monuments of Civilization, Natural Parks & Reserves, Wellness Tourism, Gliding & Paragliding, Hiking, Fishing & Spearfishing, Surfing, Windsurfing & Kitesurfing, Shopping, SPA, Nightlife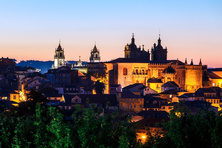 Viseu is a Portuguese city and the administrative centre of Viseu District and Viseu Municipality. It is located in Viseu Dao Lafoes in the north of the country. The city is 120 kilometres away from Porto and 240 kilometres away from Lisbon.
This city existed in the 1st century and it attracts the lovers of the excursion tourism with its numerous museums, cathedrals, monuments of ancient civilizations. The tourists will see such sights as Cava de Viriato, Se Cathedral and Misericordia Church. Do not miss a chance to visit the Grao Vasco Museum.
Interesting tours to Prehistoric Rock Art Sites in the Coa Valley are arranged for the tourists. They got listed on the UNESCO World Heritage List.
Staying in Viseu, the ecological tourists can explore the suburbs of the city. They should definitely visit Peneda-Geres National Park, where they can enjoy the waterfalls and watch Iberian wolves or roe deer. There are also tours to Tourem Village and Pitoes das Junias Village.
Viseu offers a wide choice of activities for the extreme tourists such as hunting and fishing, trekking or paragliding. They can also go to the Atlantic coast for diving or surfing or try their hand at climbing in Serra da Estrela mountain region.
You will have a great shopping experience at Palacio do Gelo. You can also go to Porto and visit such malls as Mombarda, Via Catarina, Norteshopping.
Termas de Alcafache and Viriatu's Spa wellness centres offer spa treatments or a massage.
Viseu does not host many celebrations and festivals, but many tourists come to the city to take part in the Viseu Jazz Festival or Fair of Saint Mathew.
The foodies will enjoy their meals in O Zacarias and Toca da Raposa restaurants.
At night, Ice Club and Heaven GLS open their doors.