Alaverdi
Resort type:

City resort

Landscape:

Town, Canyon, Broadleaf Forest, Riverside, Coniferous Forest

What to do:

Mountaineering, Cycling, Historical & Architectural Monuments, Hiking, Rafting & Kayaking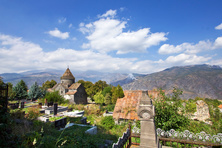 Alaverdi is a small town in the northeast of the country in Lori Province, Armenia. The distance between Alaverdi and Yerevan is 167 kilometres. The town is close to the Georgian border.
Situated on the steep hills of the Debed River canyon and surrounded by tall beautiful mountains, Alaverdi attracts thousands of tourists who prefer to relax and enjoy the pristine nature.
The town will not disappoint the excursion tourists. It is known for its unusual arrangement. Due to the elevation difference of 300 meters, the town is divided into the upper and the lower parts. An unusual sight of Alaverdi is a funicular linking the two parts of the town. Everyone who comes here should take a ride.
Alaverdi is famous for its Medieval architecture. The hallmark of the town is Sanahin Monastery. This architectural ensemble is inscribed in the UNESCO World Heritage List. Near the Monastery, above the Debed River Gorge, you will see Medieval Bridge of Sanahin which dates back to the 12th century. Among the most impressive religious monuments are Odzun Church built in the 5th century; Haghpat Monastery built in the 10th century, Akhtala Monastery consisting of the church and fortifications.
If you want to learn more about the town, you should definitely visit Home Museum of an outstanding Armenian poet Hovhannes Tumanyan. There is also Mikoyan Brothers Museum named after a famous aircraft designer who developed the legendary supersonic fighter MIG.
There is a wide range of activities for the active tourists in Alaverdi. They can go hiking and biking, climbing or mountain biking, rafting on the mountain river or try a cross-country ride in a jeep.