Wisconsin
Resort type:

City resort

Landscape:

Mountains, Broadleaf Forest, Lakes, Plain, Riverside, Mixed Forest, Hills

What to do:

Aquaparks, Mountaineering, Cycling, Diving & Snorkelling, Natural Parks & Reserves, Boat Trips, Historical & Architectural Monuments, Hiking, Rafting & Kayaking, Surfing, Windsurfing & Kitesurfing, Snowboarding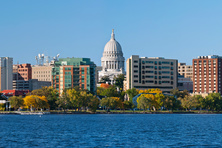 Wisconsin is a state in the United States of America situated in the central part of the Midwestern United States and the Great Lakes Region. The capital city of the state is Madison, but the largest city is Milwaukee. The tourists like to stay in Green bay and Kenosha. A small city Wisconsin Dells is a world centre of water activities.
Fantastic nature of the state attracts the ecological tourists and those who prefer outdoors activities. The tourists will enjoy amazing landscapes and see rare animals in Chequamegon-Nicolet National Forest. Apostle Island National Lakeshore and a mystical Devil's Lake impress the tourists with its emerald waters and mysterious underwater world.
Wisconsin offers a wide range of different activities. The tourists can go hiking, climbing, horseback riding and biking throughout the year. In winter, there are all the conditions for skiing, snowboarding, tubing and riding a motor sleigh. Many tourists come to Wisconsin to enjoy various water sports from kayaking, canoeing, and riding a speed boat to scuba diving and stand up paddle surfing.
If you prefer excursion tourism, Wisconsin will not disappoint you. Milwaukee is called a beer capital of the USA, you will find Museum of Beer and Brewing. There are also Museum Harley Davidson and Milwaukee Art Museum. The Art Museum's signature is "wings" which open and close automatically. Circus World Museum in Baraboo offers an interesting exposition. Other popular sights of the state are the Wisconsin State Capitol and House on the Rock in Spring Green.
Wisconsin Dells is an ideal place for the family holidays. In the city, you will find an unthinkable number of indoor and outdoor aqua parks. The largest are Noah's Ark Water Park and Kalahari Waterparks.