Vrnjacka Banja
Resort type:

Country resort

Landscape:

Town, Mountains, Valley, Broadleaf Forest, Riverside, Coniferous Forest

What to do:

Cycling, Culinary Tourism, Downhill Skiing, Wellness Tourism, Hunting, Historical & Architectural Monuments, Hiking, Fishing & Spearfishing, Thermal & Mineral Springs, Festivals & Carnivals, Religious Pilgrimage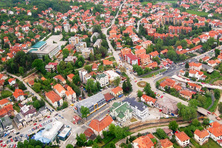 Vrnjacka Banja is a resort and a community in Rasht District, situated in the central part of Serbia. The city is 215 kilometres away from Belgrade. Its total area is 239 square kilometres.
Vrnjacka Banja is largely the destination for the ecological tourists. There are thermal sources and balneological centres on the resort. They mainly help the patients suffering diabetes and gastrointestinal conditions. The sources are Topla voda, Sneznik, Slatina, Jezero. The local climate also has a favourable effect on the wellbeing and the health.
The extreme tourists can try their hand at trekking, hunting or fishing, go hiking in the Goc Mountain or biking in the suburbs of Vrnjacka Banja.
In winter, the active tourists can go alpine skiing on the slopes of the Goc Mountain. The trails are suitable for the beginners. There are several chairlifts and routes for sledding.
The city will find favour with the lovers of the excursion tourism as there are many historical and architectural monuments. The most interesting sights are Studenica Monastery and Spocani Monastery, Stari Ras. They are all UNESCO sites.
The suburbs of Vrnjacka Banja and the Goc Mountain attract the ecological tourists. They will be impressed by the beauty of the Ibar River.
The pilgrims can go on a tour to Gradac Monastery and Zica Monastery.
Vrnjacka Banja is known for its numerous celebrations and festivals. The tourists, especially like such events as Vrnjacka Banja Film Screenplay Festival.
In the local restaurants, the foodies will enjoy Serbian delicacies. At night you can go to bars in then hotels.