Vientiane
Resort type:

City resort

Landscape:

Town, Plain, Riverside, Tropical Forest

What to do:

Cycling, Golf, Natural Parks & Reserves, Historical & Architectural Monuments, Safari, Shopping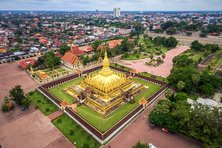 Vientiane is the capital and the largest city in Laos. Thousands of tourists wish to visit this place and enjoy its Asian character. Vientiane is located on the shores of the Mekong River not far from the border with Thailand.
Picturesque fertile plains with lush vegetation attract the ecological tourists. The city also finds favour with the lovers of the excursion tourism as there are many religious buildings.
The most popular sight in the city is a triumph arch (Patuxai) decorated in a typical Laos style with Myths characters. The tourists will also want to see the Presidential Palace built in a Classical style. It is the official residence of the head of the country.
The tourists will be impressed by the temple complexes and stupas. Pha That Luang Buddhist Stupa is a national symbol of Laos. It is recognizable for its luxurious interior and impressive appearance. The most visited temples in Vientiane are Wat Si Muang, Wat Si Saket, Haw Phra Kaew and That Dam Buddhist Stupa. On the shore of the Mekong River, there is an amazing park of Buddha sculptures. The park has more than 200 fantastic sculptures.
Staying in Vientiane, you should definitely visit the Lao National Museum with interesting historical and archaeological expositions. You can also visit the National Institute of Fine Arts.
The active tourists can ride a bike or a motorbike, go on safari in tuk-tuks, play golf or bowling, try their hand at target shooting or ride a hot-air balloon.
The shoppers will be impressed by the Oriental market. You should also go to Talat Sao Morning Market and Sanjiang Market.