The Hague
Resort type:

City resort

Landscape:

Town, Seacoast

What to do:

Cycling, Natural Parks & Reserves, Casinos, Boat Trips, Historical & Architectural Monuments, Yachting & Sailing, Fishing & Spearfishing, Surfing, Windsurfing & Kitesurfing, Shopping, Nightlife, Oceanariums & Dolphinariums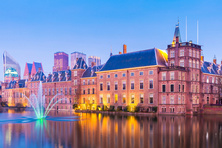 Hague is a large city in the west of the Netherlands. It is situated on the coast of the North Sea. It belongs to Randstad urban agglomeration. In Hague, there are International human rights organisations.
The Medieval architecture and modern skyscrapers coexist in harmony in Hague. The lovers of the excursion tourism will see the Renaissance castles and palaces of the 17th century or Baroque houses of the 18th century. In the centre of Hague, there are eclectic art nouveau buildings of the 19th century. In the downtown, there is a grandiose Gothic complex of buildings Binnenhof. It houses the office of the Prime Minister and a meeting place of the Parliament. The main historical monuments surround this complex, including a famous Mauritshuis.
In summer, the tourists prefer t spend time on the local beaches and do some sports activities. The most popular beach is Scheveningen, in the north of Hague. Many activities can be arranged for the tourists from sea cruises, fishing, sailing, diving, surfing, windsurfing, kitesurfing, kayaking and canoeing. You can learn the basics of surfing at Hart Beach Surfschool. Salonboat Cruise Den Haag arranges kayaking and canoeing tours.
In the city parks, you can have a picnic, there are also bike paths. At Scoottours, you can rent a scooter or a bike.
The tourists with families should not go past a park of miniatures Madurodam. Explore the sea world at Sea Life Scheveningen. You will have to rack your brains at Amaze Escape Events. Feel the speed in go-cart racing at De Uithof. If you want to try your luck you can go to Holland Casino Scheveningen.
The oldest mall Hague Passage welcomes everyone to make purchases. There is a wide choice of goods. A traditional Dutch dish Hutspot is served in Lieverd. Kompaan Craft Beer Bar makes delicious grilled dishes. Irrawaddy serves the Thai cuisine. Popular Dutch DJs play their sets at De Haagse Kluis night club.