Gegharkunik Province
Resort type:

Country resort

Landscape:

Mountains, Lakes

What to do:

Mountaineering, Mountain Trails, Natural Parks & Reserves, Wellness Tourism, Gliding & Paragliding, Yachting & Sailing, Hiking, Rafting & Kayaking, Fishing & Spearfishing, Surfing, Windsurfing & Kitesurfing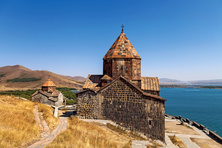 Gegharkunik Province is an administrative region with the total area of 3.655 square kilometres situated in the mountainous area around the Sevan Lake in the east of the Republic of Armenia. It shares its border with Azerbaijan and the Nagorno-Karabakh Republic. Its neighbours are Tavush Province, Ararat Province and Vayots Dzor Province. The capital city is Gavar.
A journey to the province offers a wide choice of activities for the extreme tourists. On the Sevan Lake, one can try windsurfing, rowing, yachting, kiting, parasailing and go fishing. Rafting tours or kayaking on the Getik River are very popular among the tourists. If you want to get an adrenaline rush you can go climbing and mountain hiking in the Adzhaak Mountain.
Amazingly beautiful landscapes make this region a popular centre of the ecological tourism. The tourists will want to go to Sevan National Park and enjoy the sky-blue water of the lake. In the park, you can also watch migrating birds. A valley on the Gavaraget River is also of a great touristic interest.
Do not expect a good shopping in the cities of Gegharkunik Province. Souvenirs can be found in Gavar. The event tourism is not developed here and there is no nightlife in the province.
If you prefer excursions you can take a group excursion trip to see some historical and architectural monuments. Among the most interesting sights are Sevanavank Monastery, Hayravank Monastery and Saint Grigor's Monastery. A special sight in the province is Saint Thaddeus Church built in the 7th century and located in Ddmashen village.
A favourable ecological situation has a positive effect on the well-being and attracts the lovers of a wellness tourism to the province.
The foodies will try Armenian cuisine in such restaurants as Tsovasar and Ashot Erkat.