Alentejo
Resort type:

Country resort

Landscape:

Oceanfront, Plain, Riverside, Hills, Flora of the Mediterranean

What to do:

Culinary Tourism, Diving & Snorkelling, Natural Parks & Reserves, Wellness Tourism, Historical & Architectural Monuments, Gliding & Paragliding, Hiking, Caves, Rafting & Kayaking, Fishing & Spearfishing, Thermal & Mineral Springs, Festivals & Carnivals, Shopping, SPA, Nightlife, Religious Pilgrimage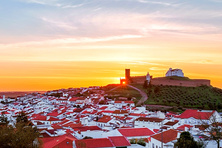 Alentejo is a Portuguese province situated in the central and southern parts of the country. In the east, it borders Spain and in the west, it has access to the Atlantic Ocean.
Preserved historical and architectural monuments or old churches attract to the city the lovers of the excursion tourism. Staying in Alentejo, you should visit the De Marvao Castle, take a walk in the Historical Center of Evora inscribed on the UNESCO World Heritage List and see Almendres Cromlech Megalithic Complex. Religious tourists should not go past Temple of Diana and Cathedral Se.
If it is the event tourism you are after, you can take part in one of the local celebrations or festivals. The most popular are People's Festival and Flower's Festival.
The balneological resorts of the region welcome everyone who wants to treat skin conditions, endocrine gland, joints and bones diseases. The local thermal and mineral springs are rich in sulphides or bicarbonates.
The extreme tourists can try their hand at paragliding, trekking, parachuting, base jumping, rafting and kayaking. They can also explore the local caves and go fishing.
The lovers of beach holidays can relax on Portinho da Arrabida Beach. The Praia do Creiro Bay is popular with the divers. Spacious and untouched by the civilization beach of Berlenga resort will find favour with the ecological tourists. Do not miss a chance to go to the Ria Formosa Natural Park.
The foodies will enjoy traditional Portuguese delicacies in the local restaurants.
The best places for shopping, nightclubs, bars and discos can be found in such large cities of the region as Portalegre, Beja, Santarem.