Goris
Resort type:

Country resort

Landscape:

Town, Mountains, Lakes, Riverside, Cliffs

What to do:

Culinary Tourism, Golf, Natural Parks & Reserves, Wellness Tourism, Historical & Architectural Monuments, Hiking, Sport Tourism, Rafting & Kayaking, Fishing & Spearfishing, Surfing, Windsurfing & Kitesurfing, Festivals & Carnivals, SPA, Tennis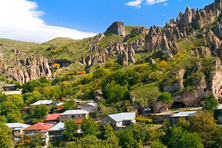 Goris is an Armenian city in Syunik province situated in the valley of the Goris River and surrounded by the Zangezur Mountains in the northeast of the country. The total area of the city is about 36 square kilometres. It is 240 kilometres away from Yerevan and 70 kilometres away from Kapan.
The suburbs of the city are very popular among the lovers of the ecological tourism. The tourists can take a walk along the shores of the Vararak River, take a trip to Goris Wildlife Sanctuary and Sev Lich State Sanctuary on the territory of which there is the Sev Lake. The active tourists can explore Medieval Goris Cave Dwellings.
There is a wide choice of activities for the extreme tourists such as horseback riding, parachuting, kayaking, rafting, rope jumping, river windsurfing and fishing on the Vorotan River.
In the suburbs of Goris you will find health resorts where you can play mini-golf, tennis, volleyball, and swim in a pool.
The hotel Mirhav welcomes all the lovers of the wellness tourism. In its wellness centre, the guests can have a massage, relaxing and toning spa treatments. Clean air and a good ecological situation in Goris is favourable for the health and well-being.
There are not many celebrations and festivals in Goris but the annual Mulberry Festival attracts many tourists to the city.
The foodies should not miss the chance to try Armenian delicacies in Takarik and Arami Mot.
If no holiday is complete for you without excursions you can go to the capital city of the region, Kapan. There you will visit Halidzor Fortress, Castle of Davit Bek and Tatev Monastery. You can also see Garegin Nzhdeh's memorial. If it is not enough excursion tours across the province are also arranged.
The nightlife is practically not developed in Goris but you can have a fun time in the nightclubs of Kapan. The most popular is Kapan An.