Grand Cayman
Resort type:

Beach resort

Landscape:

Seacoast, Island, Tropical Forest

What to do:

Culinary Tourism, Golf, Diving & Snorkelling, Natural Parks & Reserves, Horse Riding, Wellness Tourism, Historical & Architectural Monuments, Yachting & Sailing, Hiking, Surfing, Windsurfing & Kitesurfing, Festivals & Carnivals, Shopping, Nightlife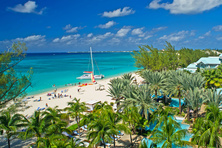 Grand Cayman is an island of coral origin and the total area of 197 square kilometres. This is the largest of all the Cayman Islands. It is situated in the Caribbean Sea. Grand Cayman is 120 kilometres from Little Cayman and 145 kilometres from Cayman Brac. An administrative centre and a capital city is George Town.
The tourists come here to spend a lazy time on the beach. The extreme tourists can try their hand at kiting, surfing and yachting. In Deep Blue Divers, anyone can take diving lessons. On Grand Cayman, there is Nicki's Beach Rides where you can learn the basics of horseback riding. If you prefer a well-developed touristic infrastructure, you better stay in George Town. The eastern part of the island is ideal for those who want to escape noise and crowds of people. The best beach is Seven Miles Beach.
The ecological tourists can explore the underwater world of the Caribbean Sea. This is a good place for snorkelling and scuba diving. The tourists can also visit Stingray City and swim with these animals. Enjoy the nature walking in Queen Elizabeth II Botanic Park.
In the capital city, you can go shopping to such malls as Kirk Freeport, Grand Harbor and Windward Center. You will have a fun time dancing in the nightclubs Dream and Jet.
Grand Cayman attracts many tourists for Batabano Carnival, Pirates Week Festival and Cayman Islands National Art Festival.
Take an excursion tour across George Town, you will see such historical and architectural monuments as Fort George, Saint Ignatius Church, and Clock Tower.
Grand Cayman is a good wellness destination due to its favourable climate and good ecological situation.
The foodies will enjoy their meals at Brasserie, Sunshine Grill and Tukka. These restaurants serve traditional Caribbean cuisine.