Grenada
Resort type:

Beach resort

Landscape:

Mountains, Seacoast, Island, Tropical Forest

What to do:

Culinary Tourism, Diving & Snorkelling, Natural Parks & Reserves, Wellness Tourism, Yachting & Sailing, Hiking, Surfing, Windsurfing & Kitesurfing, Thermal & Mineral Springs, Shopping, SPA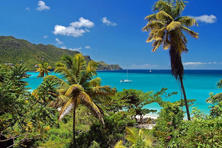 Grenada is one of the Windward Islands with the total area of 310 square kilometres situated in the Caribbean Sea. It belongs to country Grenada. The island neighbours with Trinidad Island and Karriaku Island.
A quiet coast of Grenada is a perfect retreat for people who want to escape noise and crowds of people. The most popular beaches on the island are Levera, Black Bay and Grand Anse Beach. Here the extreme tourists can go fishing, diving, and snorkelling. If you are not very experienced in diving yet you should choose Antoine Bay. In windward parts of the island, the active tourists can try sailing, yachting, kiting, windsurfing and surfing.
Thanks to its amazing nature the island is an ideal destination for the ecological tourism. The tourists can go hiking in Qua Qua Mount, Saint Catherine Mount and visit Sunnyside Garden. The trips to the local waterfalls, including Annandale Falls and Concord Falls, are arranged. No one will be disappointed by Levera National Park.
Claboney Volcanic Hot Springs attracts the wellness tourists. The wellness centre Natural Healing Therapy Spa offer relaxing massage and toning spa treatments.
Such malls in Lime as Spiceland, Excel and Grand Anse welcome everyone to make purchases.
If no journey is complete for you without excursions, go to Saint George's and make yourself acquainted with historical and architectural monuments. The hallmark sites are Saint George Historic District and Saint George Fortified System. They were inscribed on the UNESCO World Heritage List.
In the restaurants Aquarium and Creole Shack the foodies will treat themselves to typical seafood dishes.
At night, bars open their doors.