Alcacer do Sal
Resort type:

Country resort

Landscape:

Town, Mountains, Riverside, Flora of the Mediterranean

What to do:

Cycling, Culinary Tourism, Mountain Trails, Natural Parks & Reserves, Horse Riding, Boat Trips, Wellness Tourism, Historical & Architectural Monuments, Hiking, Fishing & Spearfishing, SPA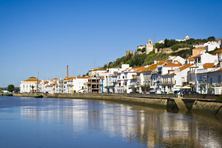 Alcacer do Sal is an administrative centre of a municipality in Portugal. It is located in the Setubal District on the shore of the Sado River, which is the largest river in Portugal.
This resort attracts active tourists who prefer to spend time outdoors. The main sight of this administrative centre is the Arrabida Natural Park. It occupies the territory of 23 Ha. In the Park, the tourists will see legendary cork oaks and they can go biking across the mangroves. This place is a habitat for rare white egrets and wonderful rose flamingos and amazing bottlenose dolphins. The Park preserved antique reservoirs for fish pickling.
Among the architectural sights is the Alcacer do Sal Castle. This medieval citadel is a monument of Islamic military architecture. The castle has 30 towers and its length is 260 meters. We also recommend visiting a monastery Nossa Senhora de Arakoeli.
There are trekking and hiking routes, jeep trips, biking trips, and horseback riding. Boat trips, kayaking, and fishing are also arranged for the tourists.
In the hotels, you can have a massage and spa-procedures. There are gyms. You can entertain yourself and play darts or bowling. Virtually every hotel offers babysitting services.
The foodies should try dried and salted cod Bacalhau, a favourite delicacy of the Portuguese. You can try it in a restaurant Retiro Sadino. The tourists can have a meal for attractive prices in Porto Santana. A restaurant O Alpendre offers European cuisine.