Guam
Resort type:

Beach resort

Landscape:

Mountains, Valley, Island, Oceanfront, Riverside, Savanna, Tropical Forest, Hills

What to do:

Culinary Tourism, Diving & Snorkelling, Natural Parks & Reserves, Boat Trips, Gliding & Paragliding, Yachting & Sailing, Hiking, Caves, Surfing, Windsurfing & Kitesurfing, Shopping, Nightlife, Zoos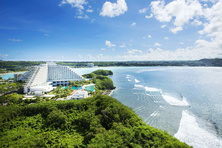 Guam is an island in the Pacific Ocean. It is an overseas territory of the United States of America. It belongs to the Mariana Islands together with the Northern Mariana Islands. The administrative centre is the city of Hagatna.
This resort attracts the lovers of beach holidays and water activities. A popular beach in Guam, Ritidian beach, is situated close to the capital city. Guam is a true paradise for the fans of underwater swimming. Those who prefer snorkelling choose Ypao Beach Park and Gab Gab Beach. The divers prefer Fai Fai Beach which is situated on the territory of a touristic centre of the island Tumon. The sandy Tumon beach offers a wide choice of activities from surfing, kiteboarding, windsurfing and yachting. Anyone can also go on a sea cruise with the team of Big Sunset Dinner Cruise.
Do you want to feel a rush of adrenalin? Then try your hand at parasailing, parachuting or fly a helicopter. In Sky Guam Aviation, there are qualified, experienced instructors and all the necessary equipment. From Tumon, you can go on a hiking or biking tour to enjoy the amazing nature of the island. Tropical Tours Guam offers a visit to Pagat Cave and Tarzan Falls.
The tourists with children should definitely go to Cushing Zoo and UnderWater World Guam. On the Cocos Island Guam, one can watch the dolphins.
On the island, there are malls and small shops. In Guam Premier Outlets and DFS Galleria Guam, the tourists will find clothes and cosmetics. If you need authentic souvenirs made by indigenous Chamorro people, go to Chamorro Village.
At night, a club Globe opens its doors. In Magic Rocks Theater, you can watch interesting performances. The foodies will enjoy their meals in Proa Restaurant and try the favourite dish of the islanders Chicken Kelaguen.