Gyumri
Resort type:

City resort

Landscape:

Town, Mountains, Broadleaf Forest, Lakes, Plain, Riverside, Steppe

What to do:

Mountaineering, Cycling, Culinary Tourism, Natural Parks & Reserves, Horse Riding, Wellness Tourism, Historical & Architectural Monuments, Amusement Parks, Hiking, Sport Tourism, Rafting & Kayaking, Fishing & Spearfishing, Surfing, Windsurfing & Kitesurfing, Shopping, SPA, Nightlife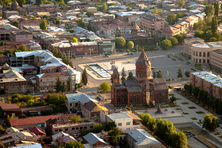 Gyumri is an Armenian city and an administrative centre of Shirak Province situated on the Shirak Plateau in the Pambak Mountains in the north-west of the country. The total area of the city is 46 square kilometres. It is 126 kilometres away from Yerevan and 26 kilometres away from Maralik.
The suburbs of Gyumri are very popular among the ecological tourists. There are many lakes, including a famous Arpi Lake situated on the territory of Lake Arpi National Park. The Aragats Mount is also a very picturesque natural site.
There is a wide choice of activities for the extreme tourists. They can go rafting, kayaking, biking, paragliding, windsurfing and fishing on the Akhurian River. The active tourists can try their hand at climbing, horseback riding or trekking and go hiking.
For those who prefer excursions, there is what to see and where to go. The most interesting sights are Mother Armenia Statue, the ruins of Horom Citadel and Black Fortress built in the 19th century. You can also take a look at House-Museum of Mher Mkrtchyan.
If it is city entertainments you are after, then you should go to Gyumri's Central Park. There are karaoke bars, bowling clubs and an amusement complex. Such malls as Tsatsakac Shuka and Argo welcome everyone to make purchases.
In the hotels Berlin Art, Golden Apricot and Villa Kars, there are wellness centres offering massage and spa treatment.
For the foodies, food and wine tours are arranged. In the local restaurants Vanatur, Shara or Ponchik-Monchik you will try Armenian and East European dishes.
At night, clubs open their doors for you. The most popular are Mahser Alani, Relax and Lucky Club.