Almere
Resort type:

Beach resort

Landscape:

Town, Lakes

What to do:

Cycling, Culinary Tourism, Diving & Snorkelling, Natural Parks & Reserves, Horse Riding, Wellness Tourism, Historical & Architectural Monuments, Gliding & Paragliding, Hiking, Sport Tourism, Rafting & Kayaking, Surfing, Windsurfing & Kitesurfing, Festivals & Carnivals, Shopping, SPA, Nightlife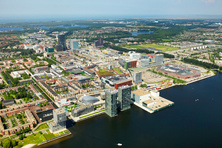 Almere is a city and a community in the Flevoland Province. It is located near the lake Markermeer in the centre of the Netherlands. It is 34 kilometres away from Amsterdam and 30 kilometres from Lelystad. The total area of the municipality is about 130 square kilometres.
Due to a large number of water basins and green areas this young Dutch city became a perfect place for the lovers of ecological tourism. The tourists can go hiking along the Markermeer and relax in the local parks. Group tours are arranged to the Oostvaardersplassen Nature Reserve. The tourists will see the moorlands and watch white egrets and white-tailed eagles. Anyone can visit an animal shelter Almere Jungle where the animals live in conditions very close to their natural habitats.
For extreme tourists, there is everything they need for rafting, kayaking, lake windsurfing, yachting, and kiting. If you have guts, you can try parachuting, hand gliding, rope jumping, and paragliding. The waters of Markermeer are suitable for diving. The tourists who come to Almere like hiking, biking, and horseback riding.
You can participate in an annual music festival Strandfestival Zand, which attracts a lot of tourists every year.
Go shopping at the City mall Almere and Almere Centrum. If you do not feel like sleeping go to the night clubs Jiggerz, Yasmin Almere, and Marrakech. The foodies will enjoy food in the restaurants De Jutter and Het Veerhuys.
Excursion tourism is not developed in Almere and the tourists will not see many historical and architectural monuments. However, anyone can take a trip to Flevoland to see its main sights. The most interesting is Schokland and its Surroundings under UNESCO protection.
You can improve your health and enjoy spa-procedures in a wellness-centre Rituals City Spa Almere.